Good Morning!
I have several cousins who have little ones so I thought this morning I would share an adorable site. Don't let the title
"Oh So Girly"
fool you; they have some really great stuff. Since I don't have children, I couldn't tell you if this would come in handy or not, but these
diaper keepers
look like something every mother would want/need. Check them out!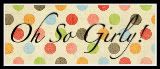 God's Blessings!